Angela Tanoesoedibjo Beri Wejangan Soal Dunia Kerja untuk Peserta Virtual Job Expo PPI China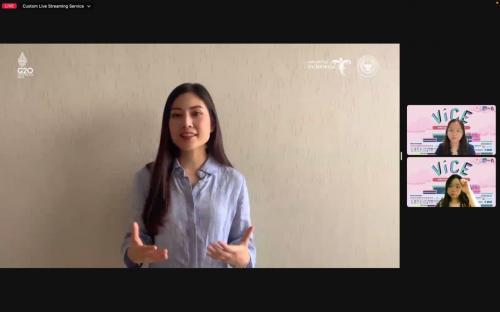 IDXChannel – Wakil Menteri Pariwisata dan Ekonomi Kreatif (Wamenparekraf) RI Angela Tanoesoedibjo mengapresiasi kegiatan Virtual Career Expo yang diinisiasi oleh Perhimpunan Pelajar Indonesia (PPI) China dalam rangka memperluas kesempatan kerja bagi mahasiswa.
"Saya senang sekali melihat antusiasme dari teman-teman yang tergabung dalam Perhimpunan Pelajar Indonesia China untuk membantu meningkatkan penyebaran informasi mengenai peluang dunia kerja dan bahkan menghubungkan teman-teman lulusan perguruan tinggi dengan banyak perusahaan," ucapnya dalam pembukaan Digital Occupation Expo PPI China, Kamis (9/6/2022). 
Wamenparekraf Angela juga menyebut bahwa kegiatan ini membuktikan generasi muda Indonesia memiliki kepedulian yang sangat besar bagi masa depan pembangunan bangsa.
"Ini adalah modal besar (generasi muda) untuk berperan lebih besar dalam pembangunan bangsa kita ke depannya," katanya.
Angela yang juga merupakan Wakil Ketua Umum DPP Partai Perindo Bidang Ekonomi Digital & Kreatif ini lantas memberikan wejangan terhadap situasi dunia kerja terhadap para audiens yang hadir. Angela mengawali pesannya dengan menggambarkan situasi pandemi COVID-19 membuat ketersediaan lapangan kerja semakin terbatas. Terutama, pekerjaan yang sesuai dengan minat dan kebutuhan.
Hal itu berdampak pada perusahaan yang membuka lowongan pekerjaan pasti akan menyeleksi kandidat yang bisa memberikan nilai tambah tertinggi untuk mengakselerasi perkembangan perusahaan yang terdampak oleh situasi pandemi. Sehingga, Angela pun berpesan agar mahasiswa dan para calon pencari kerja senantiasa meningkatkan kualitas dirinya sebelum mencari kerja.
"Maka dari itu, pesan saya sebelum mencari kerja adalah know your well worth, do your homework, and be self-confident dengan apa yang bisa kalian tawarkan ke calon perusahaan tempat kalian akan bekerja," ujar Angela.
Wamenparekraf Angela juga berpesan agar para pemuda khususnya mahasiswa yang telah mendapatkan pekerjaan sekalipun untuk tak bosan belajar dan selalu mengembangkan diri. 
"Belajarlah dari pengalaman maupun pengamatan, belajarlah menjadi pimpinan yang efektif dan belajarlah untuk terus meningkatkan keahlian kita," tandasnya memungkasi.
(SAN)